PUBLIC ANNOUNCEMENT 2011:
On July 13, PGTF was officially certified as a legitimate Sport Body ( Registration No 4709/2011), the governing body for GTF in Malaysia as sanctioned by the GTF HQ in Toronto, Canada. Together 5 State Associations and district bodies were also issued with the Certificate of Registration by the Sports Commissioner, Malaysia.
On July 18, 2011, a Press Conference was called by the President of PGTF, Dato Othman Talib and local TV stations and the Press media were present to witness the official launching of the newly minted TKD Body.
Press statement : PGTF, a new Taekwon-Do Body in Malaysia was successfully registered on 13/7/11 by Commissioner of Sports, Ministry of Youth and Sports, Malaysia. It is affiliated to the Global Taekwon-Do Federation (GTF), a world body, HQ at Ontario, Canada. PGTF is the only Malaysia body recognised by the GTF HQ.
Please click here for more details
News on Star Metro Newspaper on 29th July 2011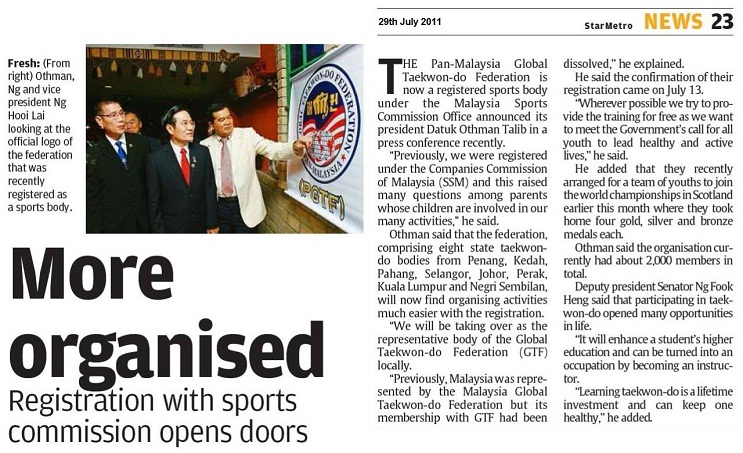 Please click here for the link to Star Newspaper
PAST PUBLIC ANNOUNCEMENT:
This is to announce that following the decertification of the Malaysia Global Taekwon-Do Federation (MGTF) as the governing body on September 25, 2005 by the GTF HQ and its subsequent withdrawal of recognition as the Independent GTF Body in Malaysia on November 28, 2006, MGTF shall cease to be an affiliate member of the GTF. Henceforth MGTF is no longer authorized to represent GTF interest in Malaysia and therefore not authorized to use GTF's logo and all other proprietary rights associated with GTF.
By Order of the Board of Directors, GTF,
Toronto, Canada

The Pan-Malaysia Global Taekwon-Do Federation (PGTF) is officially recognized by the Global Taekwon-Do Federation (GTF) as the National Governing Body for GTF in Malaysia. Dato Othman Talib, the President of PGTF is dedicated and committed to the promotion and further development of GTF in Malaysia. All Taekwon-Do members in Malaysia are encouraged to contact PGTF to continue their membership to GTF worldwide